Mouth cancer results in 2700 deaths per year in the UK and figures show this is on the increase. The good news is that the sooner oral cancers are detected, the easier they can be to treat, increasing the chances of recovery. Certain lifestyle choices, such as excessive smoking and drinking puts people at higher risk of developing oral cancer, however the disease also has strong links with the Human Papilloma Virus which is transmitted through oral sex.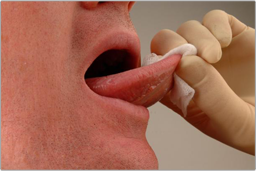 Here at Dentiq we are proud to offer mouth cancer screening to our patients. This is a quick procedure done in the dental chair which involves a thorough examination of your whole mouth, including the use of a handheld scanning device that is used to examine any lumps or lesions that you might have. This will highlight any risk factors so we can treat or refer you as quickly as possible.
It is recommended that you come in for a screening on a yearly basis. If you have any sores, lumps or long-term ulcers in your mouth, no matter how small, it is very important that you come in to have it looked at.
Contact us today to book your mouth cancer screening.