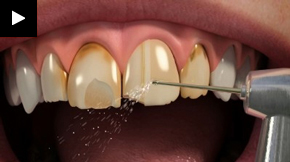 If you are unhappy about the uneven shape or size of your teeth, or you have any chipped teeth, dental veneers are a reliable treatment option to consider. A veneer is a very thin, tooth-coloured piece of porcelain (like a false finger nail) that is bonded on top of your own tooth.
At Dentiq our team is skilled in delivering a wide range of cosmetic dentistry treatments, including veneers. Designed to look like natural teeth, veneers do not require a surgically invasive placement procedure, and can be used to enhance tooth colour, smile width and the overall appearance of your teeth.
A popular choice with celebrities, veneers offer a quick and aesthetic solution for people who feel self-conscious about their teeth. You can have just one veneer or a whole set, known as a smile makeover. For a single stained tooth we can also match the precise shade of porcelain to give it a lighter appearance and fit in with the surrounding teeth. Veneers can also be used to close small gaps between teeth, when braces are not suitable. If one tooth is slightly out of position, a veneer can be fitted to bring it into line with the others.
Contact us today if you have any questions about veneers.